Dental Implants in Rockville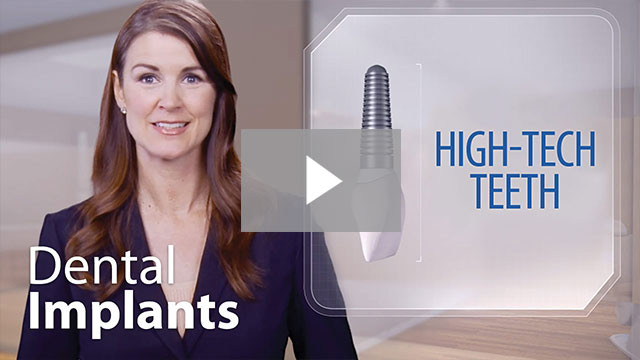 A missing tooth can severely compromise the function of your bite as well as have a negative impact on your self-esteem and overall confidence. At Rock Creek Dental Center, Dr Gaznavi and her experienced team will help you close those spaces left from missing teeth with natural-looking, functional tooth replacements called dental implants. Dental implants can fix lost function while restoring your confidence in your smile. Here are some answers to some common questions about dental implants.
What Are Dental Implants?
A dental implant is a customized, fixed replacement tooth used to close the spaces in your smile left by a missing tooth. To ensure each tooth replacement remains secure in your mouth, a titanium anchor is implanted in the jawbone and, over time, should fuse itself to the bone to become a permanent part of your mouth. A dental crown designed to look and function just like a natural tooth is then attached to the anchor to complete the implant process. The crown is custom made and fit to blend in seamlessly with the rest of your teeth, leaving you with a more functional and esthetically pleasing smile. Dental implants can be used to replace a single tooth, multiple teeth, or even secure a dental bridge or denture. During the consultation process, Dr. Gaznavi and her associates will help you determine if dental implants are the best options for your needs.
What Can Dental Implants Do for My Smile?
Missing teeth leave unwanted gaps in your smile, which dental implants can eliminate with replacement teeth. Each dental implant is designed to look, function, and feel like one of your own healthy natural teeth. Dental implants can further enable you to chew and speak with ease and comfort. While there are many people who turn to traditional dentures, partial dentures and conventional bridges to solve this problem, dental implants offer superior stability and convenience as dental implants do not move or slip. Your new dental implants can be cleaned and maintained the same way as you maintain your natural teeth, and furthermore there is no need for the pastes or adhesives associated with traditional dentures and partials. In addition to closing spaces in your smile, dental implants do not require any alteration or removal of the natural teeth adjacent or next to the space.
Our dental practice is known for delivering exceptional treatment for dental implants in Rockville, MD. Visit our dental office in Rockville, Maryland and experience dental care of highest rank in the city.
FAQs
It is the destructive inflammatory process affecting the soft and hard tissues surrounding dental implants.
Unlike natural teeth implants are not susceptible for cavity or decay but gums are vital to maintaining the implants. If proper oral care is not taken, implants can fail.
There is absolutely nothing to worry if you want to replace more than one tooth. Dental implants can be used to support partials or dental bridges which can replace more than one tooth.