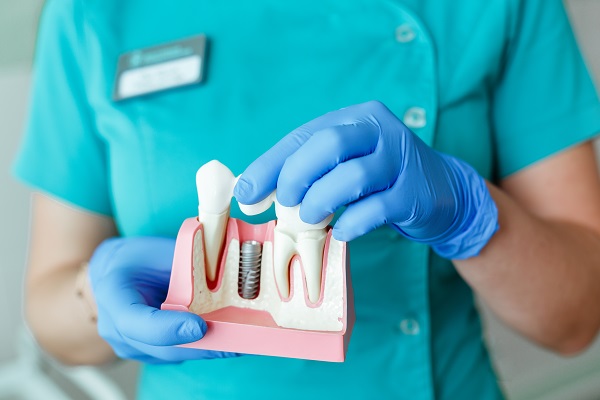 Learning more about available cosmetic dentistry options is the first step to getting a new smile. One of the more common problems people experience that make them want to get a new smile is that they are missing one or more of their teeth. Dental implants are a popular tooth replacement option due to the benefits they offer.
How dental implants work
While implants offer benefits that no other tooth-replacement option can offer, the process is one that typically takes many months to complete. The process starts by surgically inserting the implant into the jawbone, which helps support one's overall jawbone health. Once the implant has fully connected to the jawbone, an abutment is placed on top of the implant, which supports the new false tooth, also known as a dental crown.
4 Dental implant benefits
The list below goes over four benefits that come with choosing implants as a tooth-replacement option.
1. They look natural
Dental implants look very natural once placed in the mouth, making it so that they easily blend in with the rest of one's teeth. Implants are specifically designed to both look and feel just like natural teeth. The fact that more and more of today's dental patients are focusing on cosmetics when in need of dental restoration services makes implants one of the most common tooth-replacement options patients are choosing today.
2. They are easy to care for
Dental implants are easy to care for, as caring for implants simply requires patients to treat them as one of their natural teeth. Caring for implants requires patients to brush their teeth twice a day using a soft-bristled toothbrush and a non-abrasive toothpaste. It is also necessary to floss one's teeth at least once a day, which can be performed using dental floss, an interdental brush or a water flosser.
3. They allow for easier eating and talking
Dental implants make it easier for those who are missing one or more of their teeth to eat and speak. Even just missing one tooth can affect the way someone chews or talks. Many people who are missing teeth will even experience digestion problems because they are no longer able to chew their food properly. Many people will also feel self-conscious about the way they talk when missing teeth, making it so they do not talk as much.
4. They support good jawbone health
Dental implants are surgically inserted into the jawbone, which in turn helps to support jawbone health. Implants are the only tooth-replacement option that can stabilize the jawbone, which is important so that the jawbone does not degenerate. Jawbone degeneration begins soon after someone loses one of their teeth and can potentially lead to a large amount of bone loss, making it essential to replace missing teeth as soon as possible.
Are dental implants the right choice for you?
Now that it is understood how implants work and the many benefits they can offer to those who are missing teeth, those who have decided they want to undergo the implant process need to make a consultation appointment for more information.
Are you considering cosmetic dentistry in the Rockville area? Get more information at https://www.rockcreekdentalcenter.com.
Check out what others are saying about our dental services on Yelp: Cosmetic Dentist in Rockville, MD.
---
Related Posts
April 13, 2020
There are a lot of different cosmetic dentistry procedures available to those looking to improve their smile. Not everyone is born with the teeth they want, but because there are a variety of cosmetic procedures …