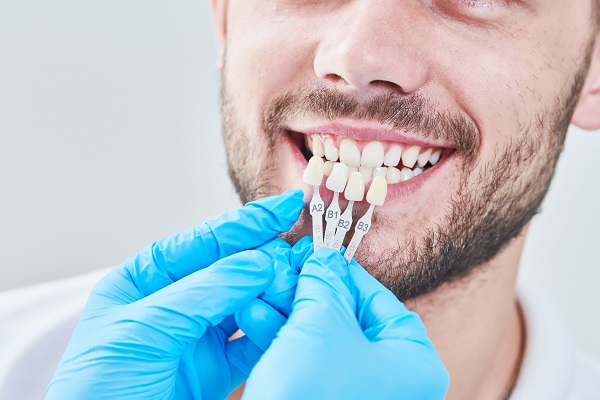 Dental veneers can transform the smile and make it more aesthetically appealing. Several thin porcelain shells are bonded to the front side of the teeth during the process. The shells are almost unrecognizable due to their natural look. Porcelain veneers can drastically enhance one's overall look by changing their teeth's size, shape, and color.
Who is a candidate for dental veneers?
Dental veneers are preferred by many because it is a quick and painless method to get a brighter smile without having to undergo tooth whitening procedures regularly. Porcelain veneers are also resistant against stains from food and beverages. The following are signs that a patient is eligible for dental veneers.
Interest in a long-term dental solution
Dental veneers are unsuitable for those who only want a temporary solution to conceal discolored or broken teeth. Since the dentist will have to remove part of the tooth's enamel to create space for the porcelain veneers, the treatment is fairly permanent. The dentist uses a special kind of dental cement to attach the veneers to the teeth, ensuring the endurance of the new smile.
Stained or discolored teeth
Patients with severely stained or discolored teeth may not respond to whitening procedures, making them eligible for dental veneers. Whitening strips, gels, and other store-bought products can slightly whiten moderately stained teeth, but they hardly affect severely discolored teeth. Certain whitening treatments include abrasive chemicals that may wear down the teeth's enamel over time, increasing the risk of cavities and other dental problems.
Chipped or broken teeth
Having chipped or broken teeth can make people embarrassed to smile. Damaged teeth may affect someone's confidence and make them feel insecure. Dental veneers can conceal small dental flaws, such as a chipped or fractured tooth, and restore the smile's appearance.
Healthy oral cavity
Dental veneers are only recommended for those who have reasonably healthy teeth and gums. Getting dental veneers is not an excuse to slack on oral care. Patients must maintain proper dental care, such as flossing, brushing, and visiting the dentist for professional cleaning.
A patient may not be eligible for veneers if they cannot follow the dentist's oral hygiene guidelines. If patients neglect their gums and teeth, they are more likely to develop cavities, gum disease, and other problems that may compromise the veneers and underlying teeth. Patients who clench, grind, or use their teeth on hard objects may not be candidates for veneers because such habits can cause damage.
Gaps between teeth or minor misalignment
The dentist may recommend veneers to cover small gaps between teeth or as quick teeth straightening option. Alternative dental procedures might be required for teeth that are severely misaligned or crooked instead of veneers. Although veneers may be used on slightly misaligned teeth, they cannot be used on severely crooked teeth because the veneers may shatter or fracture.
In conclusion
Do not hesitate to contact the dental office to book an appointment and learn more about dental veneers. A consultation with the dentist can help you find out if you are a candidate for veneers.
Request an appointment here: https://www.rockcreekdentalcenter.com or call Rock Creek Dental Center at (301) 828-1774 for an appointment in our Rockville office.
Check out what others are saying about our dental services on Yelp: Dental Veneers and Dental Laminates in Rockville, MD.
---
Related Posts
May 16, 2019
Wondering if dental veneers are the right choice for you? When you are living with one or more tooth imperfections, it is likely that you do not feel as confident as you should when you …